END CHILD SEX ABUSE.
A kid on your street is a victim. Your child's schoolmate is a victim. Someone you work with is an adult survivor. It's everywhere. Let's end it.
The Just Be Foundation arms people like you with the knowledge, tools, and training you need to identify, stop, and prevent child sex abuse.
DONATE
THE BOOK
The Murder of Innocence:The Truth about Sexual Abuse and the Catholic Church
"
The Murder of Innocence tells the true story of a young man destroyed by mental illness, brought about by repeated sexual abuse at the hands of his parish priest. We witness Michael's story unfold in heartbreaking detail through a patchwork of first-person family narratives, childhood photographs, medical records, memos, and legal documents. Through it all is woven the loving honesty of his younger brother, Sam, as he fights with the continued betrayal of his brother by the Catholic Church. It is also a work of courage and an attempt at justice and healing.Read it; you won't soon forget it." LEARN MORE
THE HARSH TRUTH

1 in 4 girls is
Sexually Abused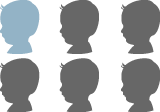 1 in 6 boys is
Sexually Abused

90% of Predators are
Friends, Family, and Neighbors
OUR WORK
TRAINING
Changing the
workplace &
community
ASSISTANCE
Changing survivors'
futures